Port wine is a consumed wine served with chocolate desserts or over ice as an aperitif. It is often smaller than other glasses and is intended to bring out this dessert wine's aromatics and rich flavors. However, to immerse oneself in the sipping experience, you must have the proper Port glass! There are different port wine glasses, including port sippers, Riedel port glasses, and crystal port glasses.
Find out the need for port wine glasses, the best port glasses, and port decanters, and choose the best port decanter and glasses.
Types of Wine Glasses
There are six wide varieties of wine glasses to fit various types of wine, and some of them have three or four variants! You want varied designs of wine glasses based on what you're drinking to reflect the characteristics of each variety of wine. Let's look at the types of wine glasses.
Champagne Flute
These are the tallest and thinnest sparkling wine glasses, offering an attractive look while showcasing the vertical path of all the bubbles in the champagne.
Burgundy Red Wine Glass
The Burgundy wine glass has the largest bowl, allowing you to stir the wine for greater air exposure and to build up perfectly for your tasting and savoring.
Bordeaux Red Wine Glass
Red wine prefers to "breathe," therefore the broader bowl of a Bordeaux glass permits greater air contact to unleash those rich notes. The stem length is medium, and the bowl has a little curve.
Port Glass
Because of the small pour size, port wine demands small glasses. It's similar to a standard Bordeaux glass but a couple of sizes smaller. The truncated rim opening draws attention to the wine's fruit, spice, and oak flavors instead of the elevated alcohol concentration.
White Wine Glass
White wine glasses are narrower in design, with a reduced bowl and a little dip adding a smaller rim opening. As white wines do not need to breathe as much as red wines, the surface area of the wine exposed to air is reduced.
Sherry Glass
This fortified wine, popular in Spain, can be fruity, but the best are dry. Like a whiskey glass, a Sherry glass carries around three ounces and has a curved, tiny rim opening.
What Are Port Wine Glasses?
Port is the most popular fortified wine in Portugal. This is a strong-flavored wine with a lot of sweetness and powerful fruit flavors. Because of their high alcohol concentration, Port, and fortified wines, in general, can be overpowering for many wine enthusiasts. The alcohol burns from drinking Port might dominate the fruit flavors for some people, making for an unpleasant drinking experience. This is regrettable, as it causes many people to dismiss Port wine entirely.
Port wine glasses, fortunately, are particularly intended to overcome this issue. Because a lower amount of dessert wine is typically poured, port wine glasses are normally considerably smaller than red, white, or sparkling wine glasses.
Why Is It Important to Have Port Wine Glasses?
You may serve Port in any way you choose, but suffice it in specialized Port wine glasses to get the most out of it. A decent Port wine glass will do the following:
be tiny enough to emphasize the fruit flavors but not too small;
be large enough to swirl and smell the wine easily
These glasses make for a more pleasurable drinking sensation by reducing your impression of the alcohol while emphasizing the exquisite rich fruit smells. This restores the wine's consistency and demonstrates why port wine is such a high-quality wine.
Best Port Wine Glasses 
Port Sippers
This style of one-of-a-kind port glass was created in the 1700s; the only difference now is that this handcrafted glass is made of crystal rather than pottery.
The idea behind this little glass is that when you hold it, your hand heats the bowl, and you drink from the bottom of the glass using the "straw." When you sip from the bottom of Port Sippers, you enjoy unoxidized wine and appreciate the full flavor of your favorite Port. You can have many types of port sippers in the market. Fox Run Hand Blown Glass Port Sipper is one of them.
Tritan Crystal Port Wine Glass
Tritan crystal is a patented, one-of-a-kind crystal glass. Instead of relying on zirconium and titanium, it is completely devoid of lead and barium. These unique crystal port glasses, designed by wine glass manufacturer Schott Zwiesel, highlight the aromatics and tastes of your favorite vintage port, Vin Santo, sweet wine, sherry, and Madeira.
Riedel VINUM Port Glass
One type of lead crystal port wine glass is the Riedel port glass. The slim tapering form, designed particularly for Portugal's traditional red fortified wine, showcases the Port's rich sweet fruit and spice flavors.
Royal Scot Crystal Port Glass
Royal Scot's two-piece set is designed for port fans. Unlike the other designs on our list, these exquisite crystal glasses have a beautiful hand-cut pattern of fans and diamonds inspired by the Scottish Highlands. Each glass is approximately 4 inches tall, with a 3.5-ounce capacity and a thin edge to bring your Port's exquisite tastes and aromas to the forefront. It can be a great gift!
Port Decanter
Decanting Port wine is essential to appreciate its opulent scents and tastes fully!
Port decanters are used to store the best-filtered port contents. The Port creates a sediment coating that is undesirable to drink throughout the fermenting process. The bottle is customarily kept upright for about an hour before the contents are delicately poured into the port decanter. This keeps the sediment contained within the bottle.
Decanting a Vintage Port has two major advantages:
Decanting Port allows the sediment to settle, allowing you to enjoy your drink fully.
Younger Vintage Port wines develop a richer body when stored in a glass port decanter. Decanting Port also allows the fragrance and flavor of the wine to create.
How to Serve Port Wine?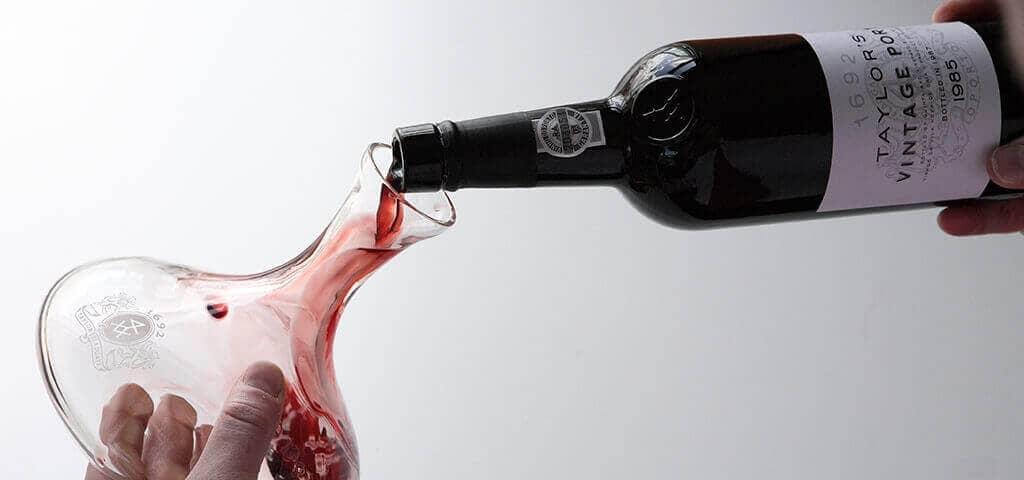 Here are some amazing ways to serve your favorite Port at your next event:
Pair it with these traditional foods: Serve with excellent cheeses, dried fruits, walnuts, or a slice of chocolate cake.
Cocktails: Port cocktails are a quirky twist on this classic drink. White Port, Ruby Port, Pink Port, and Tawny Port are all excellent choices for a cocktail.
Cooking with Port: When poured over steaks and grilled meats, port wine reduction sauce works wonderfully. It also goes nicely with ice cream and may be used in chocolate cake recipes.
Serve it neat: Dessert wine should be served "neat" in a dessert wine glass or Port wine glass at 55 – 68ºF (13 – 20ºC).
Enjoy Your Port In a Perfect Glass!
Port wine glasses are designed specifically for Port. However, they can also be used for other fortified wines, table wines, and spirits. Whether you drink your favorite Port in a traditional Port glass or a Port Sipper, it will make every event more enjoyable.